Taipei, July 26 (CNA) A group of Taiwan elementary school students, who were on a sailor training and marine education exercise, arrived in the offshore county of Penghu on Sunday, after a 17-hour trip on a sailboat.
The 60-foot boat, the "Barefoot," sailed into Argo Yacht Club in Penghu at dawn Sunday, carrying the captain, nine students, three teachers, and a cameraman who had embarked on the 155-kilometer journey from Kinmen Island the day before.
The boat trip was part of a program initiated by Yueming Elementary School in Yilan to allow students to learn boating skills and gain firsthand knowledge of the marine environment, "Barefoot" captain Chang Kuang-chung (張光中) said.
During the 17-hour trip, the students were taught how to raise, lower and trim the sails, Chang said.
The most challenging part of the journey was when the propellers struck some driftwood as the boat neared Magong in Penghu, Chang said, adding that the damage was being repaired and would be completed by Monday.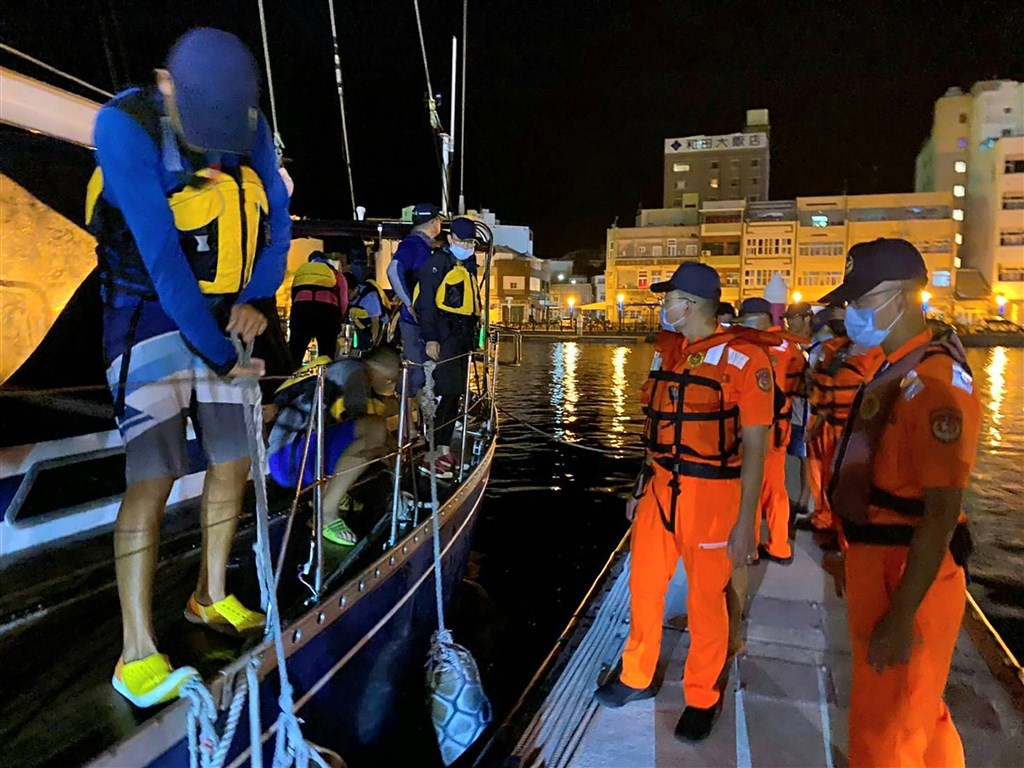 The nine students, meanwhile, spent Sunday on the beach and were scheduled to meet with their counterparts from Penghu's He Heng Elementary School on Monday, according to Chen Wen-chuan (陳文全), a teacher at Yueming Elementary School.
During that interaction, the Yilan students will take part in a beach cleanup, collect beach sand, and conduct experiments to find microplastics in the sea, Chen said.
They will also invite the He Heng students to visit the "Barefoot" to get a sense of what it is like to be at sea, Chen said.
The trip from Kinmen to Penghu was the fifth in a series of boat rides organized this summer by Yueming Elementary School to help its students learn more about the marine environment and gain some boating skills.
A total of 32 students in grades three to six, 13 teachers and 10 instructors are participating in the program, which is being held over a 27-day period and involves calls at several ports around Taiwan, according to Chang.
He said it is important for Taiwanese students to learn about the sea, because they live in an island country.
"I encourage Taiwanese children to connect with the ocean, because the more they learn about it, the more they will grow to love and protect it," he said.
In addition to the trips to Magong in Penghu and to Kinmen, the "Barefoot" has already taken Yueming Elementary School students to Gueishan Island, Keelung Islet, and Matsu, and it is scheduled to continue onwards to Penghu's Qimei Island, Anping Port in Tainan, Kenting, Orchid Island, Green Island, and Hualien, before returning to Su'ao in Yilan on August 9.
https://www.liantat.com.tw/wp-content/uploads/2020/09/2020-09-17-小學生.jpg
768
1024
johnson
/wp-content/uploads/2020/04/聯達行logo-英.png
johnson
2020-09-17 16:07:49
2020-09-17 16:08:15
Elementary school students on sailor training reach Penghu